A handful of us attended this show last weekend and it was a pretty fun time. The show itself was run pretty well for a smaller show, but it is clear that
Boston Comic Con
(link) is on the verge of growing beyond previous years in both attendance and exhibitors/guests/vendors.
This year, the show moved to a larger space at the Westin Waterfront which was very conveniently located near the "T". The lines moved pretty smoothly and logistically the show was run pretty well considering it was staffed by volunteers and folk who do not do this for a living.
While there were some pretty impressive guests at the show (Jim Lee, Mike Mignola, Bill Sienkewicz, Jim Starlin, and Sergio Aragones to just name a few), what really got me was the fact that
this really was a

comic

show
. So many conventions tag "Comic Con" to their name, but are as much if not more pop culture shows, with less and less emphasis on the comics each year.
Boston Comic Con really reminded me of the older one or two day comic shows that Christine and others would host here in Burlington. Lots of Vendors, lots of cool stuff to look at ( and perhaps pine over, LOL) and, most importantly, LOTS OF COMICS!
It was very nostalgic for me, and I wanted to just "shout out" to Christine that it made me grateful for the comic shows she's been a part of over the years. Thanks Christine!
Back to the show. Another cool addition to the show was the inclusion of costume contest. As a few of you know, Emma has been dressing as Wonder Woman for a few years now at various shows. Well this year was her year becuase she won First Place in the costume contest, edging out some very tough competition I might add.
Here are some pics from the Contest: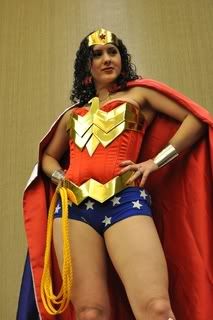 (Credit: K. Irons Photography)
(Credit: K. Irons Photography)
I have a few more pics that I will upload later, as well as video from the Costume Contest. Once everything's online I will provide links.
I would also like to say that Emma had a great cheering section. Thanks go to Kurt, Marcus, Rich, and Mark for their help!
So, all in all a great show. We're already looking forward to next year!